PRIVATE WAN
SD-WAN virtualises your networks into a single managed solution. This means control of your whole network is completely in your hands, not the ISPs.
Why SD-WAN?
Traditional MPLS networks were great and served a useful purpose for a long time. But these legacy networks are expensive to not only set up and configure, but are inherently expensive and complex to maintain.
SD-WAN blends your current MPLS networks with today's technologies, solving problems such as high costs and complexity.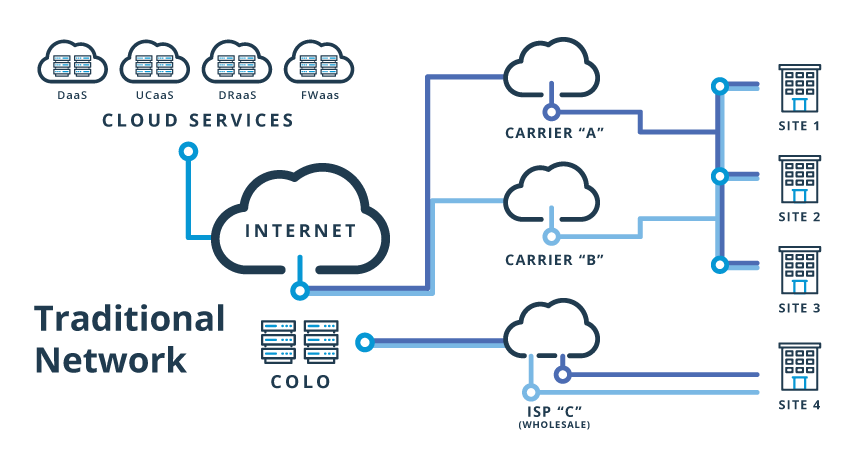 Traditional Networks – ISP controlled
Traditional multi-site networks rely on individual services from multiple carriers or service providers. Deploying, managing and changing this architecture is time-consuming, complex, and expensive. Businesses need flexibility to deploy and change their networks easily and ensure secure communications.
SD-WAN Networks – You're in control
An SD-WAN network virtualises one or more networks, enabling The SD-WAN Company to build a virtual network as an overlay on multiple carriers' last-mile connectivity. We manage the network, including IP addressing, routing, prioritisation and other network characteristics end-to-end. Multiple circuits and Encryption provide additional security to centralised and/or on-premise Firewalls.
SD-WAN can use commercial broadband Internet or in a hybrid deployment, use enterprise fibre and standard Internet. In either case, we have complete visibility and control over all circuits. White-box, containerised SD-WAN endpoints can be at customer premises or in Cloud/Colocation facilities, integrating all endpoints into a single managed network. With SD-WAN, you're in complete control.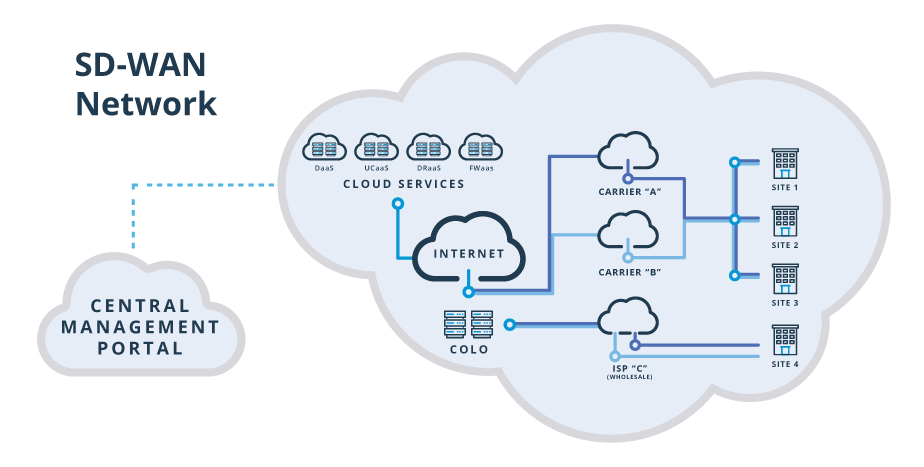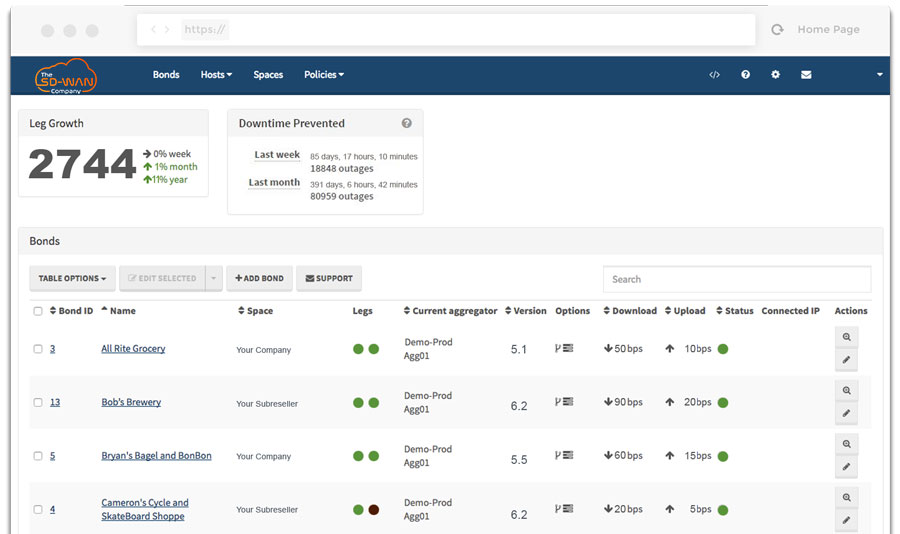 Our user portal puts control in your hands 
Our easy to use portal has a modern GUI and gives you quick and complete access to make policy and configuration changes in a few simple clicks. With The SD-WAN Company, you are in complete control of all your networks in one single portal.
Your Private Network, Your Way. 
100% Uptime
Reliable internet connectivity is the foundation for your business. Always-on connectivity is the true starting point for changing the way you network. The SD-WAN Company allows you to use multiple internet circuits from multiple providers simultaneously, while getting higher uptime without exposure to ISP outages. Your network will shift traffic away from failed connections and back when they restore automatically. No touch required.
Secure Networks
Be secure whether you have one or multiple locations. The SD-WAN Company's per packet connection load balancing distributes traffic from your site across multiple circuits. Site-to-site encryption further strengthens data security. Private Wide-Area Network (PWAN) enables you to network multiple sites to share applications securely and reliably. Maintain access to business critical systems.
Solve VoIP Quality
The SD-WAN Company eliminates the quality-related issues with broadband internet. We break down the barriers to flawless voice over internet; Get better quality VoIP calls, video conferencing, and other Unified Communications capabilities without dropouts or jitter, even when using multiple internet connections. Use built in Quality of Service to prioritise bandwidth allocation to VoIP.
What are you waiting for?
Get in touch so you can be blown away by the power of SD-WAN.